Shawmut Education News
As 2020 moves onward Shawmut Education looks to increase a growing client base in technology services. The current status of global health and "Covid 19" has caused us to embrace Learning Management Systems. One of the new areas of revenue for the organization is online tutorial development. Shawmut is leveraging its vast background in working with video on the web and looking to integrate that with emerging technology like Learning Management Systems (LMS) now widely used given the inability to have traditional classrooms given the health climate. The current turn of events has also spotlighted the needs of the homeless. Shawmut Education showcased "Distance Learning" at the Annual Grassroots Use of Techjnology Conference at UMASS Boston in 2007
The fall of 2007 saw Shawmut Education streamline its computer network infrastructure by moving to the cloud. Things have been reconfigured to provide for as simple an operation as possible. This should be a plus as the rollout of 2 national legal services initiatives that are planned for 2021.
Shawmut Education also plans to focus on its efforts to build a facility in Portsmouth Virginia. This is a planned mixed use development. One should be able to keep tabs on the project by visiting the Virginia Homeless website.
Local News
Convention Centers Fill With Beds For COVID-19, Including 500 For Boston's Homeless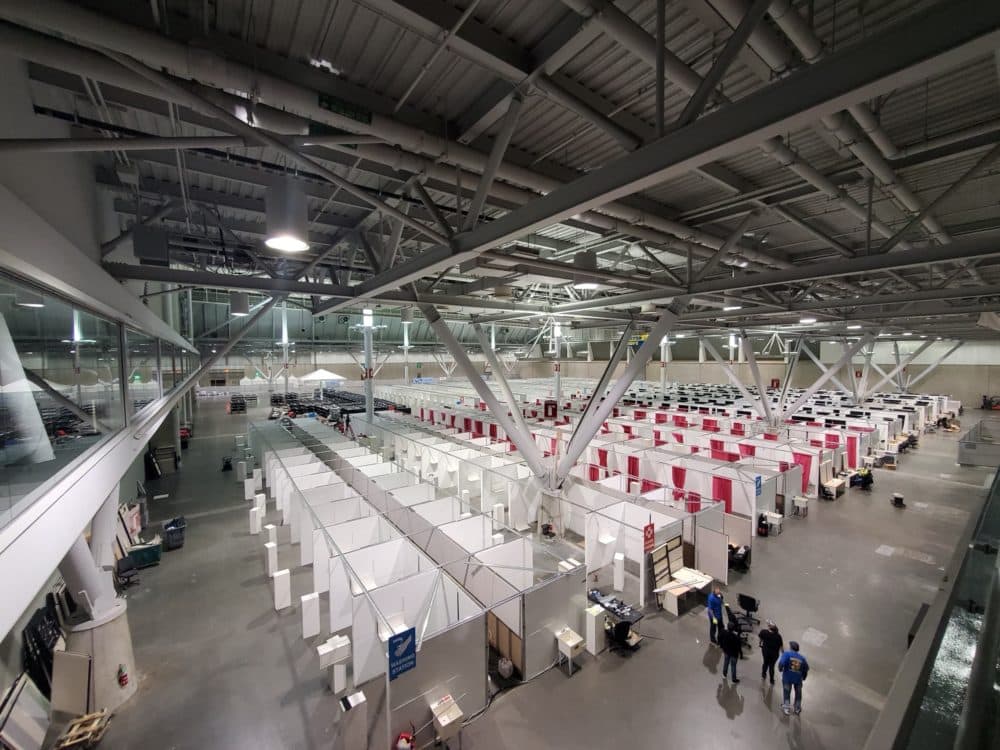 For the last five days, workers from Teamsters Local 25 have filled the Boston Convention and Exhibition Center with rows of walls and curtains. Where it was empty a week ago, the floor will now bustle with medical rooms a thousand deep – a new field hospital to care for patients with COVID-19. Raised over the rooms is a blue and yellow flag with the hospital's name: Boston Hope.
While Teamsters Local 25 is used to building inside Boston's convention center, the union local president, Sean O'Brien, says this project felt different. It was personal.
"When you're building something like a hospital for victims of coronavirus, it hits home," O'Brien says. "None of us are excluded from coming down with the virus. You could potentially be building a 1,000-person hospital that you may — or your loved ones may — end up being in, unfortunately."
The new field hospital is expected to open Friday, and another 250-bed facility in the DCU Center in Worcester is slated to open on Thursday for patients with COVID-19.
Read More
Homeless in a pandemic: How do you distance yourself when there's no place to go?
Jerry (foreground) came to Boston from Puerto Rico six years ago because there is more help to be had in Boston, although "not so much," he admits. Photo By Luis Edgardo Cotto. One of the populations most vulnerable to the coronavirus is that of the homeless living in Boston, a city with over 2,000 cases
Read More
U.S. News
Cities Must do More to Protect Older Homeless Americans From COVID-19
NOT SINCE THE 1918 Spanish flu have we faced such drastic nationwide measures to prevent the spread of a deadly disease pandemic. Communities across America are shut down and individuals are instructed to stay at home and distance from those outside their households. For older adults, who are at greater risk, particularly those with chronic conditions, physical isolation means protection. It can be a matter of life and death.
Read More
World News
Street papers provide global update on how the world's homeless population is facing the coronavirus

8 April 2020 by INSP News Service
By Liam Geraghty, The Big Issue (UK)
As coronavirus continues to spread, The Big Issue wanted to get a real sense of how the deadly pandemic is affecting people on the streets.
Like The Big Issue, every one of those street papers is facing a battle for survival to carry on serving the vendors who rely on them for a life-saving income while the streets are empty.
It is crucial that they survive to come out the other side too – with many people left jobless as a result of the shutdown to stop the virus' spread, and a deep global recession likely, street papers will be a safety net and a vital lifeline.
In the face of unprecedented adversity, street papers are harnessing the rebellious, defiant spirit of street paper movement to protect homeless people who are among the most vulnerable to the virus. This is how it's happening.
Read More